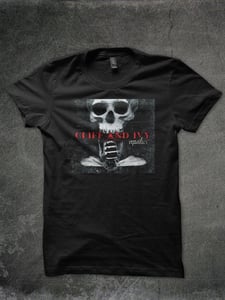 $

16.99
Black 100% cotton T, preshrunk, Gildan brand.
Ladies' fitted short sleeve crew and Men's short sleeve crew available.
Silkscreen of the album cover design on front.
Sizes:
Women's S, M and L. Men's L, XL, 2XL and 4XL.
Measurements: Measurements were made on flat unstretched shirts. Chest size indicates inches across the front of the shirt at bottom of armpit seams. Length indicates inches from center neck at the back of the shirt to bottom of shirt.
Women's:
Small: chest 16.5", length 25"
Medium: chest 17.5", length 26"
Large: chest 18.5", length 27"
Men's:
Large: chest 22.5", length 30"
XL: chest 24.5", length 30.5"
2XL: chest 26.5", length 32.5"
4XL: chest 30.5", length 36.5"